The Eiffel Tower! Damian has constructed this artist rendition of the Eiffel Tower for a historic event. It will be featured and auctioned at Sedona's Family Fun Days.
Flying Over Time(FOT), a non-profit organization, will be auctioning off this amazing creation. Proceeds benefit FOT, an organization dedicated to teaching art and history through the lens of science. This organization helps to preserve the legacy of Donald A. Hall the mastermind behind the engineering of the Spirit of St Louis.
We chose to create the Eiffel tower because of it beautiful engineering and significant historical value. It is modeled in 1.27 scale. Appropriately chosen to honor the year Charles Lindberg flew around it.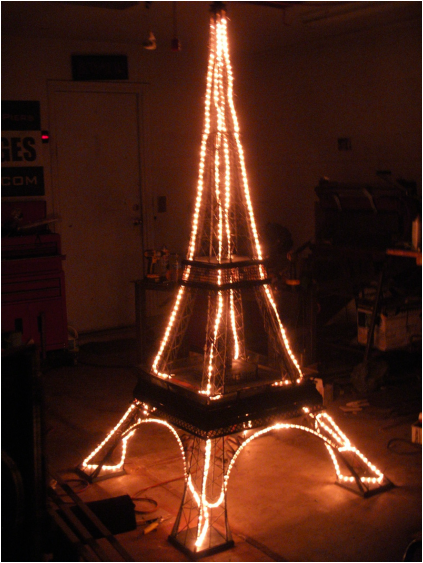 In 1927, after 31 hours of flying in a tiny silver aircraft, remarkably designed
and built to carry 450 gallons of fuel in 60 days in San Diego, California, the
Spirit of St. Louis's exhausted pilot desperately needed to land. That
young 25 year old was Charles Lindbergh, and he was quickly loosing day light. His
primary hope, was the Eiffel Tower near the center of Paris, France. He had not slept the night before leading Long
Island in his rush to beat his other aviator competitors at Roosevelt Field.
Now, he was worried about how to find La Bourget field, just north of
Paris. Worse yet, his aircraft had no forward window to see the glowing
tower. Navigation was becoming more and more difficult. He had
followed Le Seine river, knowing it would lead him to Paris, but in the end, as
the sun set behind him, and as the darkness engulfed the aircraft and pilot, it
was the bright light of the tallest structure in the world, that would point the
him towards the northeast, and the grassy landing field of Paris's famous
aerodrome. When Lindbergh finally landed his specially designed aircraft,
he had been flying for 33 and a half hours.