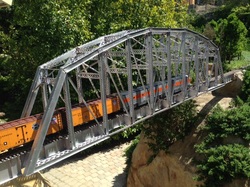 Gary and Marilyn Siegel live in beautiful Santa Barbara, California. Gary has been known in the HO modeling scene as both a gifted railroad builder and operator. As a model railroad builder he has had multiple articles written about him, emphasizing his grand layout and attention to detail. I was honored to be able to work him and his amazing crew and contribute to the beauty of his backyard (1:32 Scale).
These bridges have been an ongoing design challenge since the beginning. This is partly because of Gary's vast knowledge of bridges and model trains. He himself has built complicated and highly detailed model bridges for his own layout. I was happy for the constructive criticism and his approval. The entire experience has educated me and expanded my abilities as an artist.


The impressive backyard layout (1:32 Scale) of Gary Siegel was awe-inspiring. It was built for model railroad operations with over 2,500 dwarf trees, tons of custom mountains, nineteen custom bridges, and countless photo opportunities. It is a joy not only to watch this layout run but to also be part of the outdoor operation crew with Gary.


The trip and the installation of these bridges went by smoothly. But this is only beginning; the next step is creating custom concrete abutments for the bridges before working on the next set of model bridges. I would recommend seeing this beautiful backyard layout to anyone, model railroad fan or not.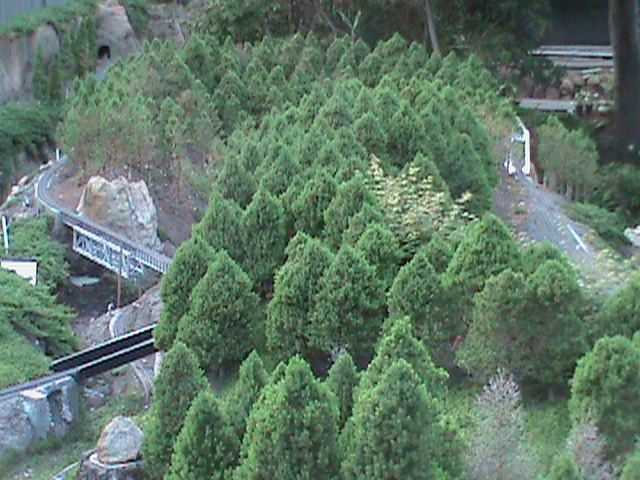 Special Thanks to Gary and Marilyn Siegel, as well as the whole operations crew. Thank you for your hospitality, your generosity, and your passion for model railroads.
Stay tuned for a schedule of the Siegel's Special Events coming soon.